The Natural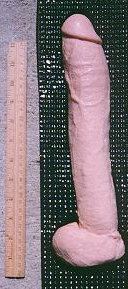 "Giant Dong — This dong is HUGE.Do not order unless you are prepared!" —Convergence Inc.
"The Natural — 13" long and 7" around. This naturally colored dong has the look and the feel… of realism!" —Convergence Inc.
Batteries Required: none
If you have used this dildo, please share your impressions through the feedback form provided below or e-mail direct to ToyReviews@AdultToyReviews.com.
availability
Adult Toy Reviews helps you compare sex toys from a wide variety of sources.
U.S. $34.00 Convergence Inc.†
†Affiliate: Listings marked with a † are affiliates. If you decide to purchase from this source, please use the link provided. The use of this link will result in a token affiliate payment that will help keep this site on the web. We can't vouch for any affiliate's honesty and remain neutral about whom you should buy from.
NOTE: We can not vouch for the honesty of any of the listed sources. References to commercial sources and their prices provided as a courtesy to the reader. We do not work for any of these organizations. When comparing prices, remember to add in shipping and handling charges, taxes, and other fees. Prices and availability of specific items subject to change (if you notice that a price has changed or an item is no longer available from a listed source, please e-mail us).
Copyright © 2007 SheLovesHerToys.com
send feedback to SheLovesHerToys
site created & updated by
michaelm& milo